Having extra space in your house is something that everyone wants. If you are also planning to get shelter in a barndominium but are worried about its space, then say no more to your worries. This time, we are going to resolve the space problem in the barndominium by including the basement area.
With a basement area, one can easily increase the space for living; either you can transform the basement area into a high-end living space, or you can use that space for storing spare items. But what type of basement do you actually need, and what barndominium with a basement actually is? From its advantages to its disadvantages, we have covered it all. You just need to read the article all the way through its conclusion and get a better insight into it. 
Can a Barndominium Have a Basement?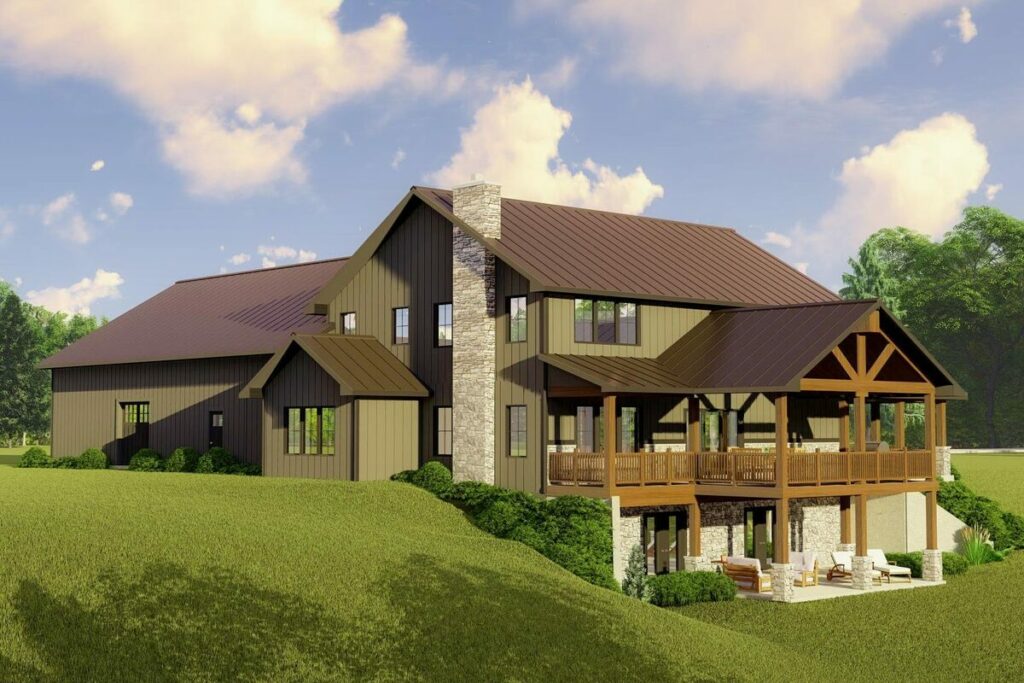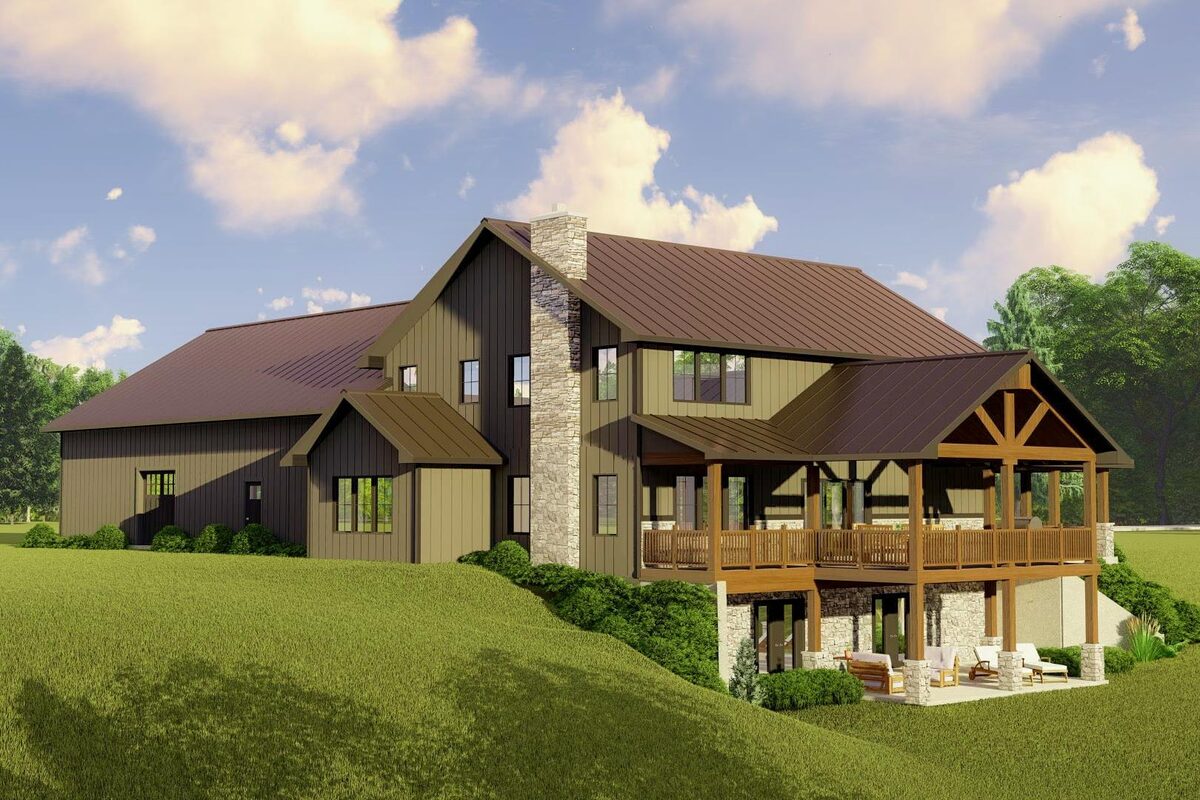 At the time when barndominiums were newly introduced, there were no rules or trends about the basement. Over time when the needs of people increased and the rationality increases, people started building basements in the barndominium. So the answer to the question, can you add a basement to a house or a barndominium, then the answer is yes. You can add a basement to your barndominiums. 
Well, barndominium with basements are really useful sometimes. As it can add extra space for living that you can use in many ways. However, there are so many problems as well of building a barndominium with a basement as the basement requires extra managing efforts. Hence, adding a basement is a wise idea only if you can manage all the disadvantages efficiently.
What is a Basement Foundation?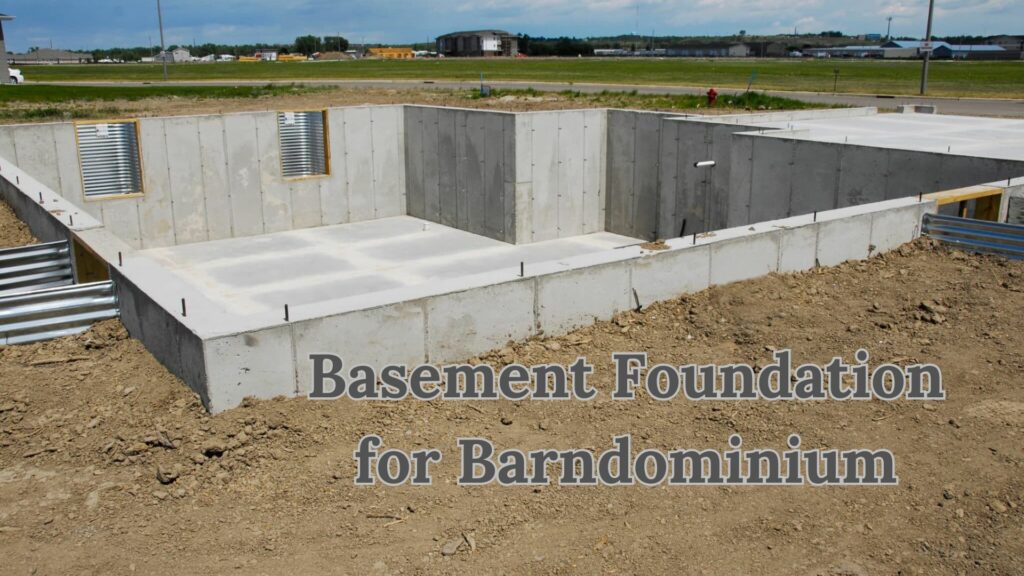 Basement foundations are a kind of pre-fabricated kit that serves you with customizing options in order to have a barndominium with a basement.  Basement foundations are typically a framework that provides you with ease in order to build a barndominium. It saves time in constructing a full-fledged barndo house. Well, this is a concrete structure that most people use while having a basement barndo. This way, one can save the cost and time of building the basement area.  
Moreover, barndominium kits generally have a scope of customization, but you will be required to have architectural knowledge for it as kits are only be used if you want to build the barndo above the ground. We are adding this information as barndmonium kits are quite popular these days. Hence, one must know what to do if they need a basement with a barndo kits. Also, this is the reason why most of the barndos are built on slabs.  
What Types of Basements Can a Barndominium Have?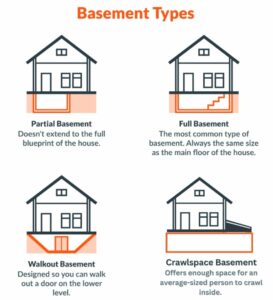 When it comes to building a basement in the barndominium then, there are several options through which one has to go through and choose the perfect type for their own home. To cut down this confusing slack, we are here to help you with a guide that will resolve all the options of the basement and give you clear insight on every type of basement that a barndominium can have. Well, there are a total of 4 types of basements that a barndominium can have, and all of them have their own way of use.
Which one among them you are required to choose will completely depend on you and your needs. Well, basement is just the same, and an additional area of your ground floor. You can use this area for any kind of use. For parking, as a crawling space, as an added floor, etc. Let's check all the types of basements in the below-given pointers. 
1. Full basement
Full basement is the area that is certainly equal to the space of your overall barndominium. These spaces can be used as an additional space or floor on which one can live as their home or use the space as a separate floor. 
2. Partial basement
Another type of basement that you can have is the partial basement. This partial basement is a basement that takes the only middle area of the basement and is surrounded by the foundation slab. Hence, the area of this is less than the upper floors of the barndominiums. 
3. Walkout basement
Walkout basements are an area that is slant and can be used for walking. This basement has a sloping terrain that can be used for walking and let you get in the yard.     
4. Crawlspace
Crawlspaces are basement areas with a certain height suitable for average-height people. People generally used this space for wiring and for pipes. These spaces are left for extra use.  
Advantages of a Barndominium with Basement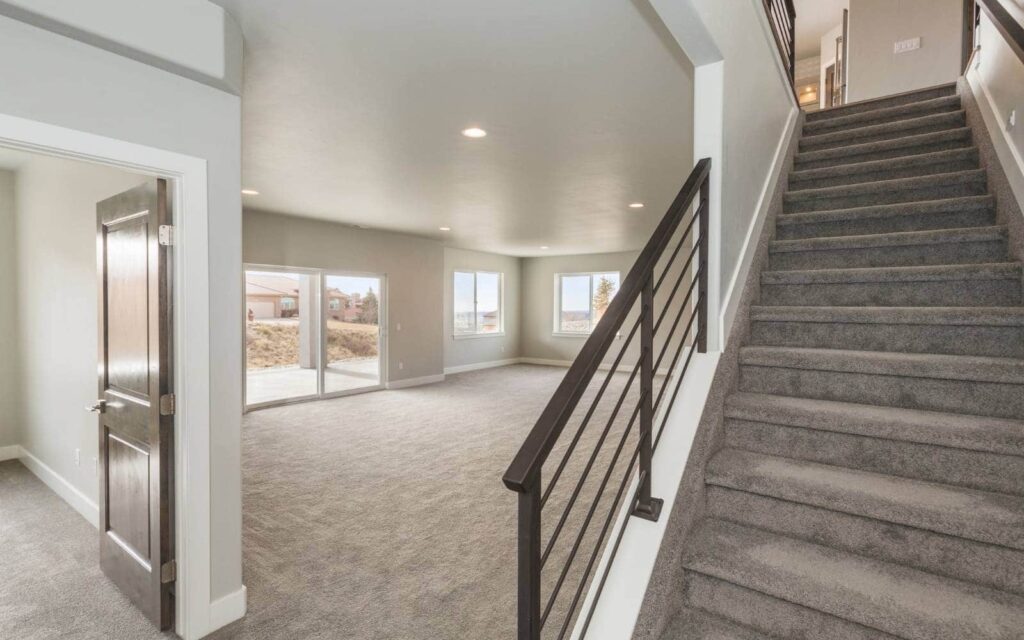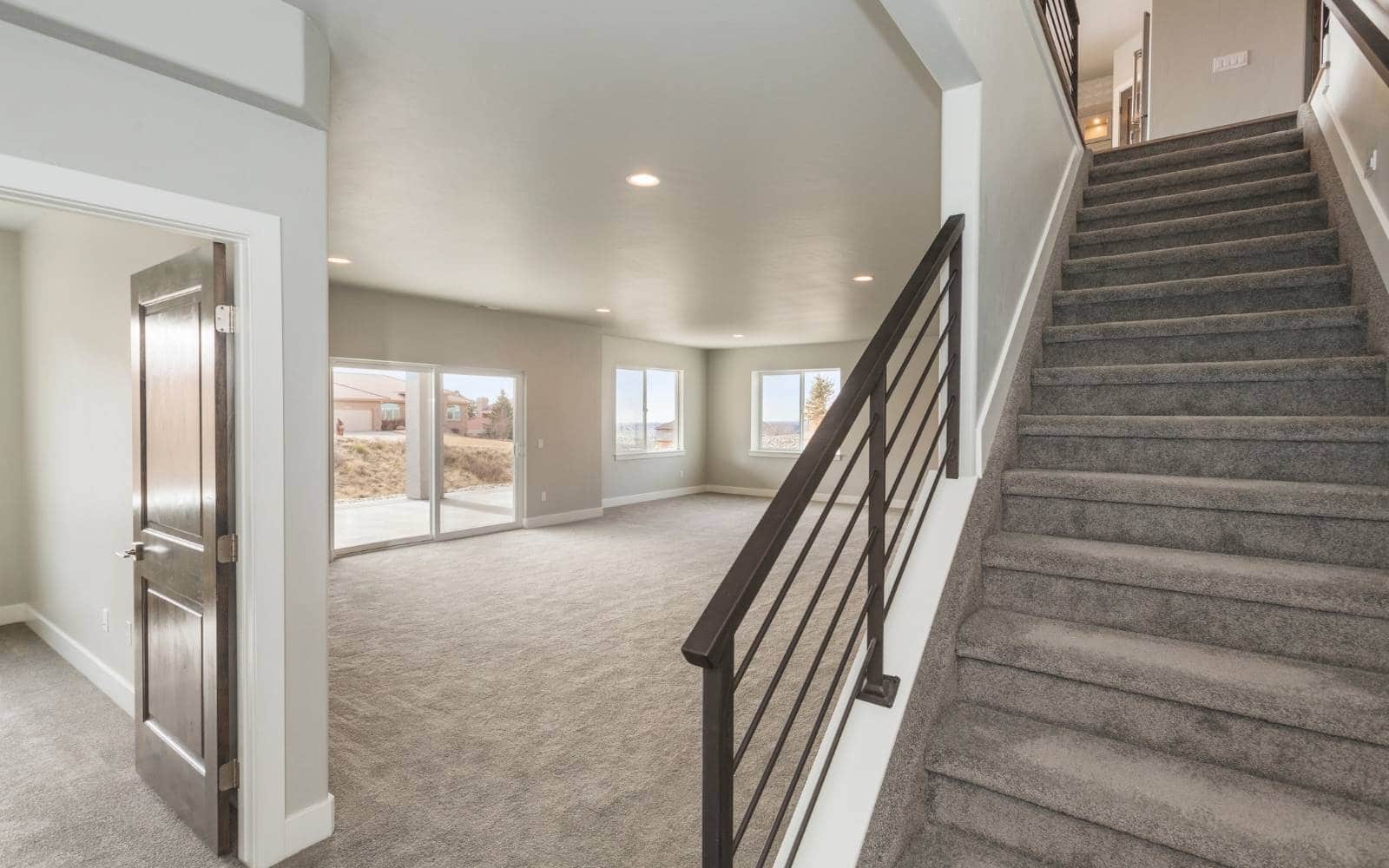 When it comes to the barndominiums basement, then people are usually not aware of the newest trends and avoid basements as it takes time and money to build one. However, there are so many advantages of building barndominium with a basement. All in all, it is not just limited to the space. 
Extra Space:

A basement is all about extra space. One can enjoy the extra space in the basement. People live in the basement on a separate floor. Moreover, there are other types of use as well. 

Heat Resistant:

Basements are under the ground, which is why they are cooler than the above floors. Already they are of metal that is meant to absorb too much heat. Hence, the basement can be a way to escape the heat. 

Energy Saving:

They are energy efficient as the basements are cool enough that you don't even need the fans in hot summers. Moreover, you are not required to use any other electronic medium to make the temperature lower. 

Repair Access

: Basements are the crawl space into which people usually put all the wiring and the pipelines. This way, they can find out the error if it comes, and the repair will become easier. 
Disadvantages of a Barndominium with Basement
Barndominium floor plans with basement also serve some drawbacks. One has to manage all the errors with the basement if one wants to enjoy extra space for living. Well, what are these drawbacks? We are going to encounter them in the below pointers. Let's check them out. 
Time taking:

Building a basement under a barndominium can be time taking, as it requires digging first and then other construction work to be performed in the aftermath. Hence, people avoid constructing basements. 

One has to spend money:

Well, a basement needs so much construction material, and that takes a lot of money, which is why a lot of people avoid having basements in their barndos. 

Water problems:

Many basements usually face the issue of water problems. Well, this problem is very common, but one can easily escape from these problems with the help of efficient and quality construction at the time of building the barndominium basement. 

Design change:

Barndominium kits don't come with the basement design; hence one would need to hire a professional architect to build the basement design with the kit. 
Alternatives to Basements for Barndominiums
Barndominium with basement floor plans are pretty useful, but sometimes people find its drawbacks and hence go on a journey to find alternatives. But we have done this for you. With the help of our dedicated experts, we have cut down the slack and found an alternative to the barndominium with basement plans.
Well, the alternative is the slab that has also been used for so many years. Building a barndominium on a slab can help you to have a barndominium with efficient use. Most people use this technique of building the barnmdominium as it reduces the cost and is also time savvy. It doesn't require much effort to build. You can check our dedicated article to learn about barndominium costs. 
Moreover, building a barndominium on the slab requires less effort as one would not require architectural knowledge as there is no scope for changing the design of the barndominium. Furthermore, one can save time as it doesn't require much construction material. 
Barndominium With Basement Are really Worth It? 
Barndominium with basements are truly worth the money, and people usually buy barndominium with basements as they are more efficient to use. However, barndominium with basement plans are spacious and give more access to new facilities, and one can really enjoy extra space in their barndo homes. You can use the basement area for repair purposes and for living as well.
Moreover, barndominium is not heat resistant hence, they get very warm in the summers, making a living almost impossible. As these barndos are made up of metal, hence they catch more heat. So, summer is the time when most people prefer living in the basement as it is cooler than the other floors. 
Frequently Asked Questions
Q1. Can you put a barndominium in the basement?
A barndominium can have a basement. Well, barndominium with walkout basement is not a traditional idea but has become too popular as people find it more efficient day by day. You can use the idea so that you will have a more spacious barndo. 
Q2. How big is a 40×60 barndominium?
40×60 barndominium is such a huge size and can fulfill all the needs of space for a normal family. However, it has 2400 square foot of space, which is quite enough for having a great space in the barndominium. 
Q3. What foundation is needed for a barndominium?
If you want to have a basement section in your barndominium, then you are required to have the basement foundation. Moreover, you can use slabs as well. Slabs are less costly and also efficient to use.
Conclusion
In the above guide, we have given you a full-fledged idea about what a barndominium with basement is, along with its advantages, disadvantages, and alternatives. Barndominium floor plans with basement are such a great idea to work on.  As this has been in so much trend for so many years because of its aesthetic designs. One can really have a great day living in a barndo as it keeps all the countryside chaos away and soothes the mind in every way. 
Barndominium With Basement Foundation & its Cost: Everything You Need To Know