Have you heard about the barndominium? If you haven't, this is the best article to know about it. Barndominium is a place that is used for living purposes. It is quite different from the traditional form of houses. Farmers introduced this new form of living. As per the trend, we can say that the popularity of this form of house has been increasing. Building a barn house requires architectural and engineering skills; however, it is not a rocket science kind of aspect when we talk about construction. With research and skills, building this house becomes quite possible for everybody.
As for its construction, there are many procedures involved during the course of its construction until the final touch is attained. And there are advantages, as well, because of which people are rushing towards this form of house. Therefore, the importance of this house is growing day by day due to its affordability, cost-effectiveness, and solutions as settlements for many homeless people. As the price of housing has been skyrocketing, in this case living in such a house can be a good option for you, which is one form of prime advantage.
How to Build a Barndominium?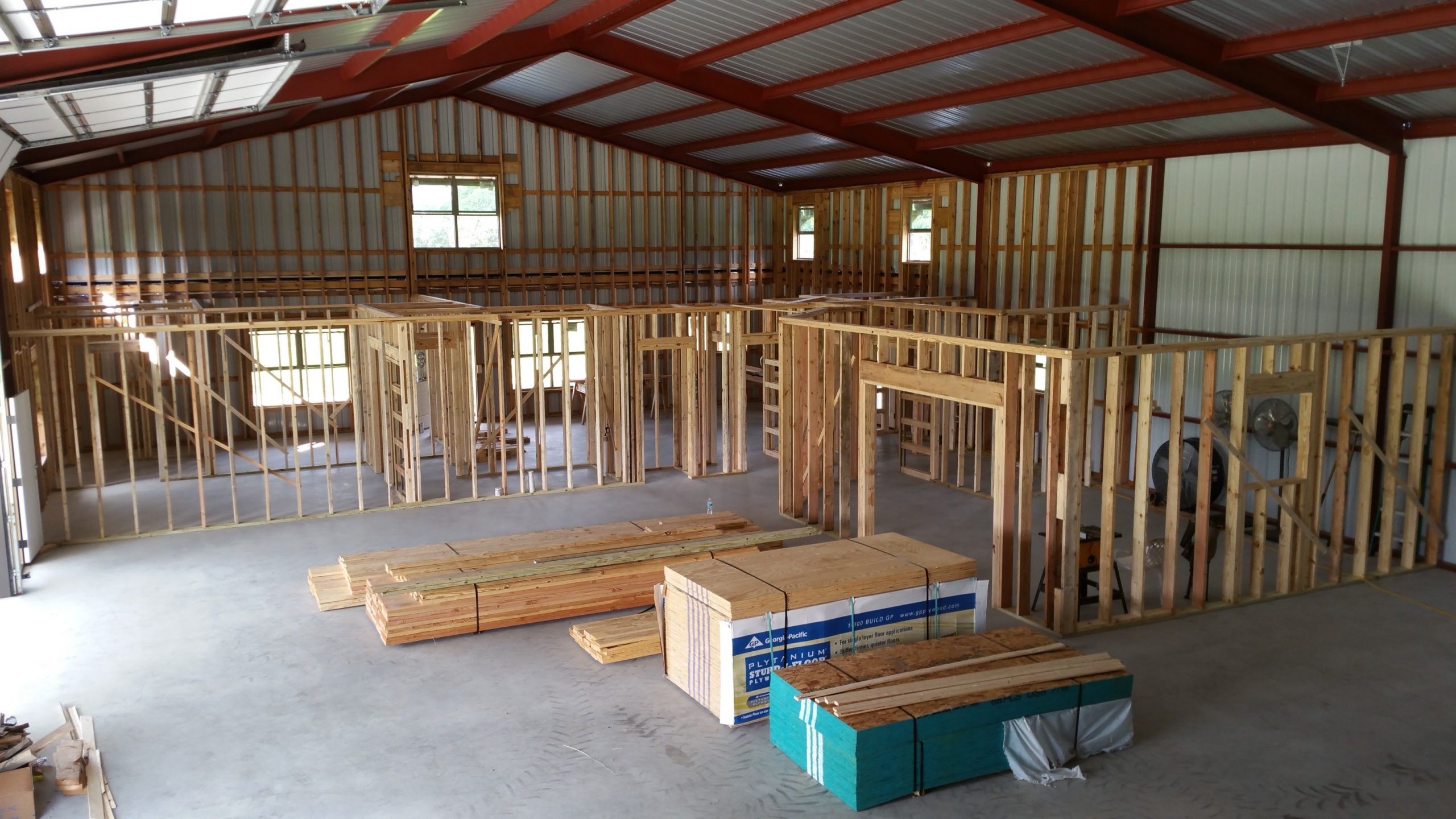 Building a Barndominium is relatively easy than building a traditional house—it generally takes 9 months. Before creating the barn house, we should identify an area where the construction can be started. It is important to have an adequate amount of area to build a barn residence because it requires plenty of area. We should have a clear idea of how the interior and exterior designs will look like. If we can decide on the design beforehand, then it will be really easier to add a final touch. 
Steps to Building a Barndominium
Barndominium construction requires a few steps. Framing the structure of this particular building is the primary task and other tasks that consist of along with that are designing, wiring, painting, etc. Hence, we will get to know about the building steps briefly in the following manner:
1. Foundation
The foundation is the main part; it can be structured via posts that are bottled to the ground with the help of concrete. We need to dig holes using a hole digger. After this, we need to use cardboard to give it a form. 
2. Framing
After the foundation, the next big step is to make a framing. Builders will make walls and roofs, which can be made either of metal or wood. Finally, the foundation, roofs, and walls will be integrated together to provide a good structure.
3. Designing
After framing, interior design is the next big thing. A builder needs to create channels for plumbing, to ensure an adequate water supply. Supply of electricity is the next step of it. 
4. Painting
Drywall and painting is the next step that follows after plumbing. Builders will paint the barn home to give it an aesthetic look.  Painting is an artistic work in which builders have got their own skilled painters to handle the work perfectly. 
Key Points to Build Barndominium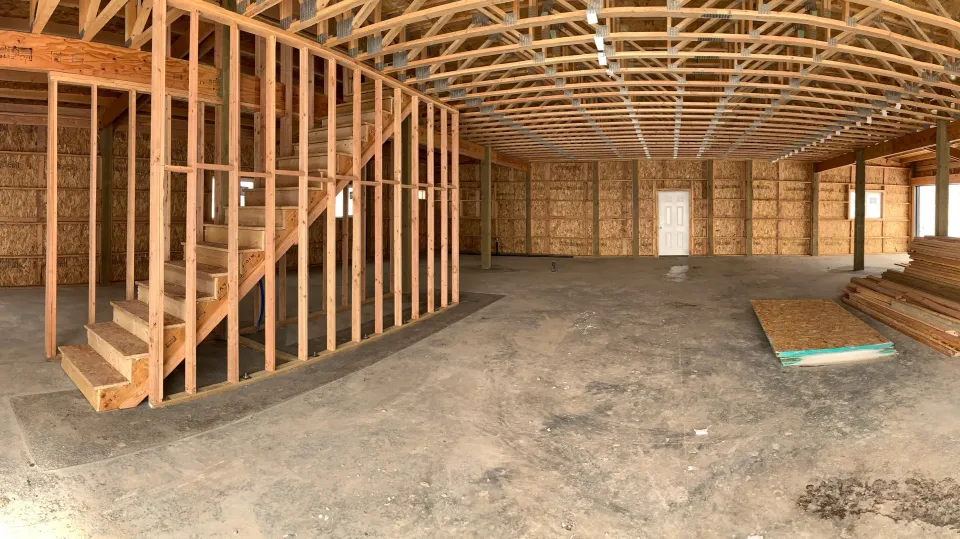 Barn house construction is something similar to renovation to the one when we build the existing house with a new design for living as described above. To create a good-looking barn residence, you should follow some key points, that will help you in the long run.  
The quality of the material used plays an important role in any kind of construction. And when we talk about it in terms of this house, we cannot compromise on the quality of building barndominium. The Quality of the metal should be perfect so that it does not impact the durability of the burn-house. 
Renovation of any construction can get you a hard dent in your wallet. Hence, you will also want your construction strategy to be cost-effective. Budget-friendly barndominium is really required, so that every people can afford the barndominium.
Over time, the house undergoes wear and tear which require maintenance. Therefore,barndominium should be created in such a way that the maintenance cost gets reduced as much as possible with less stress on your budget.
Another important point to building a barn-house is Electrical work. The electricity service provider should ensure all the electrical wires should be located in the exact position. Moreover, the wiring and connection should go further keeping safety in mind.
Placement of Doors and Windows
Pick out windows and doors carefully. These will help to bring sunlight and flow adequate air inside the barn house. Because proper ventilation is of utmost importance due to the fact that a well-planned airflow system will let fresh air come inside the room.
Lastly, we should look into the Insulation part. As Barn-house is made of metal, so this is not heat resistant. So, to control the heat resistance, insulation is required. Insulated panels and foam boards are helpful in resisting heat.  
Difference between Barndominium and Traditional House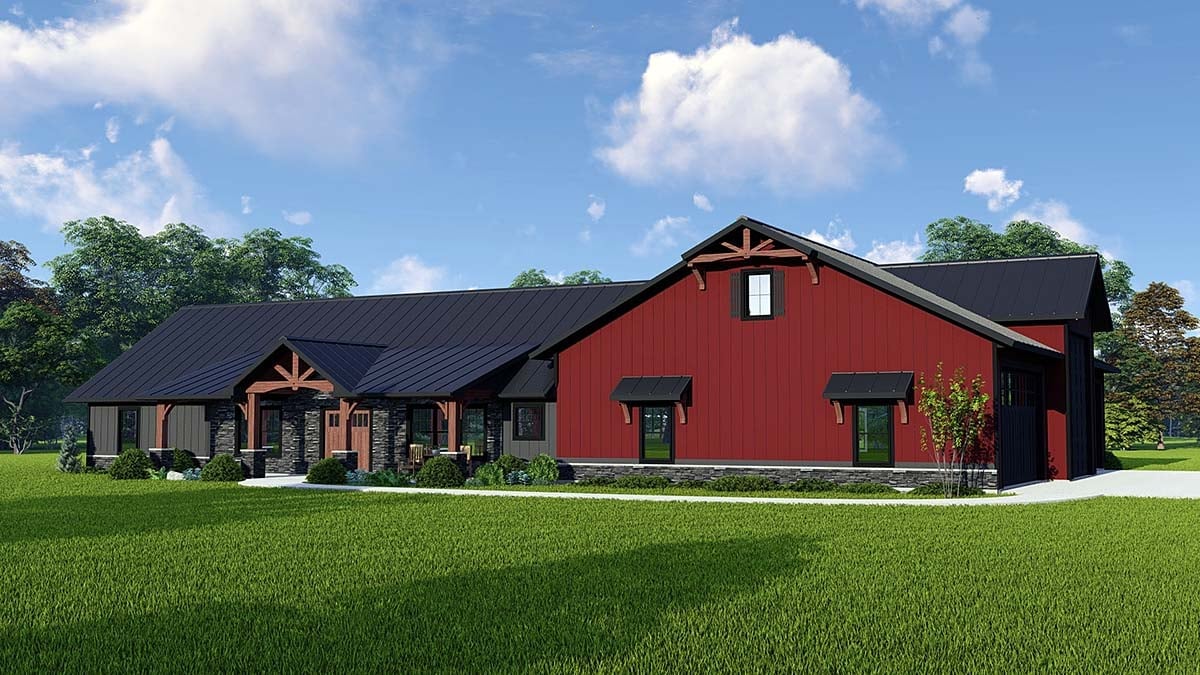 Before the introduction of a barndo, people used to live in the traditional house. Barn-house is not something that is traditional. Here we will see the key difference between a Barndoiminium and a traditional house.

Metall Used: Traditional houses are made of brick mainly but barndominiums are not made of bricks; builders use metal to construct it. So, the building material is the main difference between the two.
Duration to build: It is easy to maintain a Barndominium than a traditional house because it takes less time.
Cost of Construction: The cost of building a  Barndominium is cheaper than the cost of building a traditional house.
How Much Does It Cost to Make a Barndominium?
It varies from place to place, if the demand for any region is high, or maybe the population is high, in that area, the cost of a barndominium can be slightly high. In general, the prices ranges of a barn-house is as follows:
To create 1200 square footage of a barn-house, you have to spend $112,800 to $144,000.

If you want to get 2400 square footage of a barn-house, then you have to spend $225,600 to $288,000.

If you want to get 3600 square footage of a barn-house, then you have to spend$338,400 to $432,000.

If you want to get 4800 square footage of a barn-house, then you have to spend $394,800 to $504,000.
So, these are a few price ranges by which you can construct a barn house.
How to Build a Budget-Friendly barndominium
Making a house to live in is the dream of many. If you can not build a traditional house due to budget constraints, then do not worry. Building a Barndominium is a great option for you. Here we are going to discuss how you can get a barn-house affordable. 
There are few states where the demand for barn-house is really high and the price of the land is really high. The cost of building barndominium in Florida, California is relatively higher than the cost in Ohio.
You should buy all the materials from the same vendor so that you can get the material at a cheap cost. 
Instead of building a barndo from scratch, you can use a kit for building it. This kit contains all the materials and necessary instructions to build a barn-house.  
You can do some work by yourself as well if you have some knowledge of interior design, then you can use your creativity.
Use Energy Efficient Electronics
Energy efficiency does not only help to reduce the cost of the budget, but also it helps to reduce electric bills.  
Advantages of building barndominium
As the price of traditional houses has been increasing for the past decade, opting for the barn-house is the best option for consumers. There are some comparative advantages of the barn-house that we are going to discuss.
Pricing:

As housing prices are increasing, building barndominium is affordable because the cost is cheaper than the traditional house so everyone can afford it.

Building Material:

To build barndominium metal is needed, so, it is more durable than the traditional house.

Foundation

: Barn-house is built on a concrete base, which makes it unique to traditional houses.

Open Area Concepts:

Forming a Barn-house requires an open area, so builders do not need to provide much time and at the same time, it helps to reduce the cost of the Barn-house.

Longevity:

If you can assure the quality of the metal and other accessories while building a barn-house, then you do not need to think about its longevity. It can last almost 50 years or more than that. 
Disadvantages of building barndominium
Barndos has some negative sides also. We all know there always be pros and cons for every aspect. Now we will be looking into the disadvantages.
Structure:

Most of the barn-houses are single-storied houses and require a lot of space to build. 

Transferring Sounds:

Another problem is barn-house transfers a lot of sound from outside as it is made of steel.

Financing:

The demand for a barn-house has been increasing, but it is difficult to finance it. 

Challenging to Resell:

Barn-house is not part of a traditional house. Though there is a hike in demand for it, mass consumers prefer traditional houses. 

Geographical Restriction:

The government does not allow building a barndominium in the urban area. So, we can mainly see barn-house in rural areas.
Best States to Build a barndominium
All over the US. barndominium got massive popularity because of its cheap cost and its low maintenance cost. In Texas, the popularity of the barndominium is the highest. Apart from Texas, in Oklahoma, Mississippi, and Alabama, the demand for barndominium has been increasing. Barndominium in Florida is gaining popularity because the people in rural areas want an alternative to a traditional house.
Frequently Asked Questions
Q1.  How much money do you need to save to build a barndominium?
Building barndominium is not very expensive; if you want to make a barndominium, and if you want the dimensions 30 by 40 feet or we talk in terms of square feet, then building a barndominium of 1200 square feet takes a minimum of $112,800 and to make a barndominium of 4200 square feet, it takes a minimum $394,800. 
Q2. What is the most expensive part of building a barndominium?
To build a barndominium, there are several components that play an important role. As we all know, a barndominium is made of metal, so purchasing a good quality metal is quite a crucial part. Good quality steel and metals require a substantial amount of money. If a builder does not use good quality products, then in the long run, it will create a problem, and it will create a question about the durability of the barn house.
Q3. How big is a 40×60 barndominium?
We can build any size of barn-house, but a popular size of barndominium is 40×60, which is 2400 square feet. The minimum cost of making a barndominium of this size is around $225,600, and the maximum cost is $288,000. 
Conclusion
We have already discussed the importance of building a barndominium. There are many Western countries that are adopting this process to make a new space of living in a barndominium, especially in rural areas. If, in this way, demand for burn-house gets increased then in the future, there is a possibility of an increase in the price. However, as an alternative option, this is gaining popularity.
Top Tutorial on How to Build a Barndominium and Its Importance