If you are searching for a spacious and unique residential space that blends modern aesthetic sense with rustic rawness, then a 2 story barndominium is for you. This unique type of home is architectured to serve multiple purposes. It is one of the most versatile types of residential real estate in the United States.
These homes are very appropriate for people who want to have a slice of a modern home. Barndominiums are generally spacious. However, choosing a two-story barndominium plan can be overwhelming for various seekers. If you are one of them, then you must carry on with this guide. This guide is going to resolve all your grapplers. With the top 4 floor plans, you can start your building journey  
Why a Two-Story Barndominium is the Perfect Home for a Growing Family?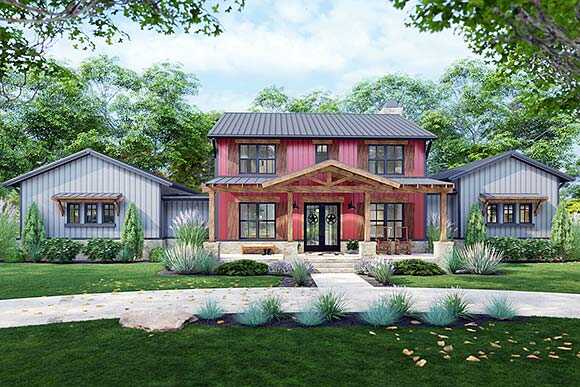 If you are a growing family, finding a good home that accommodates the newer members of the family can be a daunting task. According to many home designers, going for a two-story barndominium is the best option for you. Barndominium combines the unique rustic charm and aesthetic beauty with the dignity of modern architecture. 
Another one of the best advantages of a  barndominium is that it is generally open and spacious. It accentuates the concept of open living spaces where your house also serves as a workspace and a living space, saving money in the process. 
Another advantage of the 2 story barndominium floor plan is that it has enough storage space for accommodating items of furniture and other goods. This means it will be easier for you to buy pieces of furniture for your little members during their growing phase. 
Types of Two-Story Barndominium
There is no doubt that a small 2-story barndominium can be very advantageous to a growing family. It can serve as a storage space, quarters for a workspace, and a residential sector. Let us explore what type of plans are available for us.
1. BM2500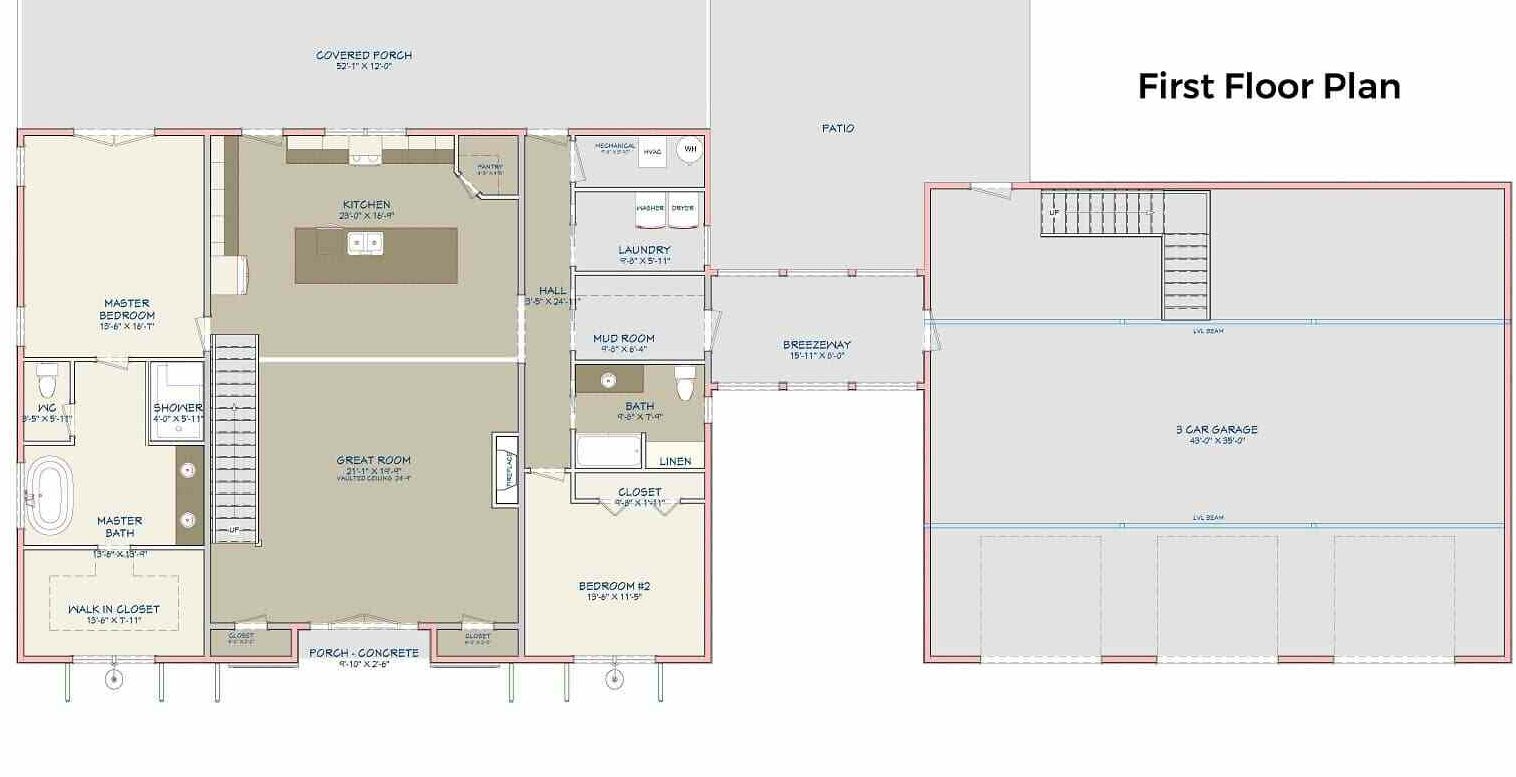 BM2500 is the most popular 2 story barndominium plan in the real estate market today. The plan represents a 3 bedroom and 3 bathroom plan that excludes the combination of the elegance of the modern aesthetic and rustic charm that the barndominium is famous for. 
This kind of barndo is considered an open-floor concept plan. The rooms are spacious and meant to be versatile, which means the rooms are supposed to serve multiple purposes. The kitchen and dining space are merged and many rooms are interconnected. 
Features: 
The rooms are large and interconnected.

All the rooms can serve multiple purposes. 

The kitchen is made in the form of an island with a pantry and other accommodations surrounding it.

A mud room is also constructed interconnected with the many breezeways to shelve clothes and jackets.

The laundry room, the kitchen, and other essential rooms are all in the same room. 

There are two master bedrooms and the smaller one leads to the larger one. 
2. BM3945
This two-story barndominium has all the trappings for a modern and elegant farmhouse large enough to be confused with a high-status mansion. The living space is huge and spacious that opens up to a huge porch that can serve as an accommodation site for entertaining guests.
The exteriors are quite fancy and give it a classy posh look with interconnected spacious rooms that serve multiple purposes. The kitchen has an island with a large pantry. The hallways lead to bathrooms, mud rooms, and other essential areas.
Features:
Spacious living rooms with an open flooring plan.

The kitchen is equipped with appliances made of stainless steel.

Three bedrooms are available with requisite closet spaces.

There are two bathrooms with updated floorings, fixtures, and the modern piping 

The exterior is rustic with doors made of metals with sliding panels and roofing 

Garages are attached with extra spaces for storage.

The house is sprayed with foam insulation to make it energy efficient. 

The patio is large for entertaining guests outdoors.
3. BM3151-G-B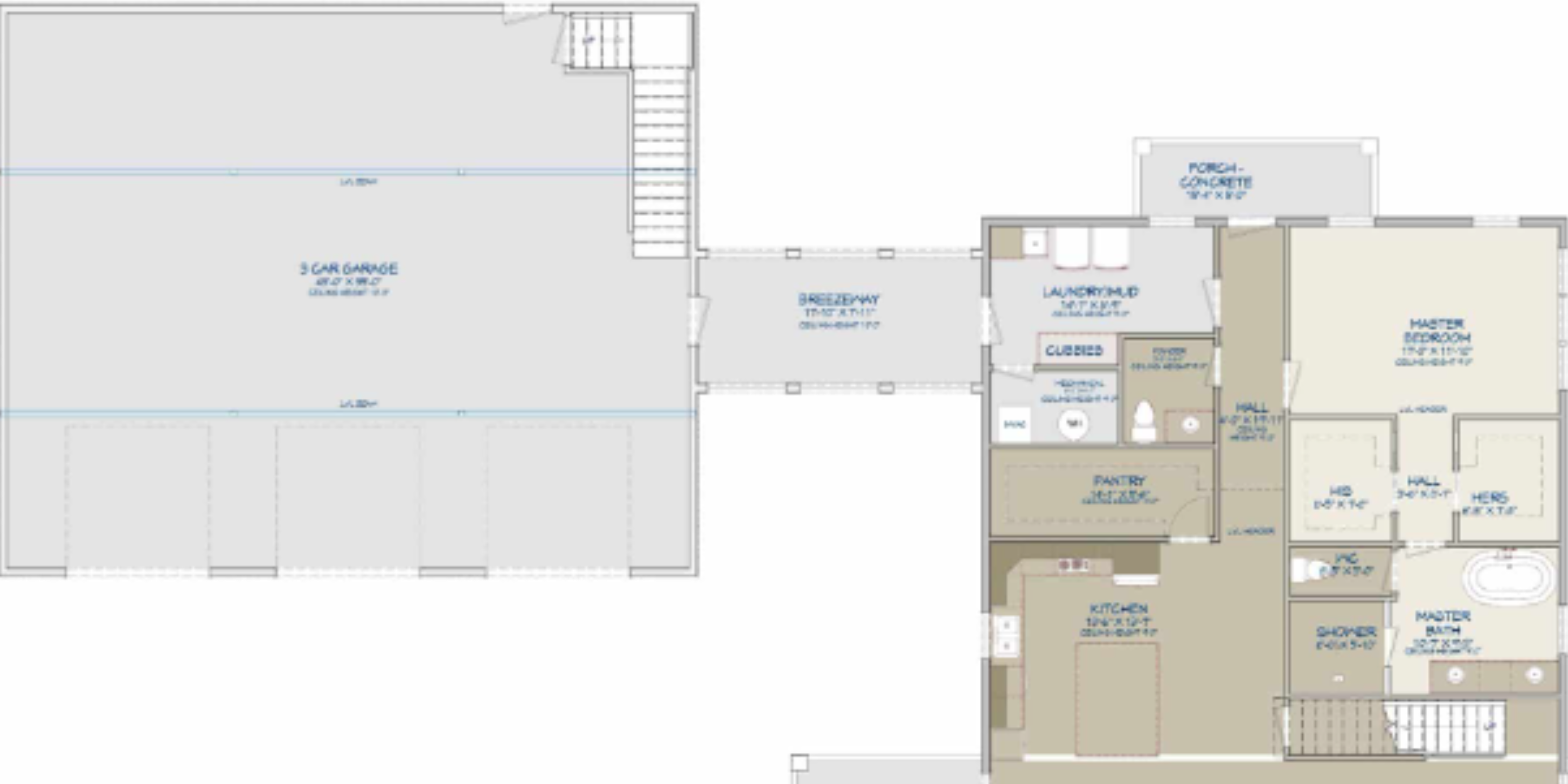 These 5 bedroom 2 story barndominium floor plans involve 5 bedrooms and 4 and a half bathroom structuring, which appears to have been a hit for the buyers recently. The difference between BM3151 and BM3151-G-B is that the former does not have an attached garage and the latter does. 
The house's interior is compatible with the open flooring concept of any two-story barndominium. All the spacious rooms are connected to the kitchen. This type of barndominium is new and has been very convenient for buyers.
Features:
The interior is an open flooring concept with an attached garage.

The rooms are spacious and lead to the kitchen. 

The kitchen is large and has a spacious counter that can be used for storage. 

The laundry and mudroom lead to a breezeway connecting to the garage. 

The master suite connects to the four bathhouses of the barndo. 

The second floor has two bedrooms and is connected to a common bathroom. 

There is also a theatre which could be used as a kids' playroom.
4. BM5550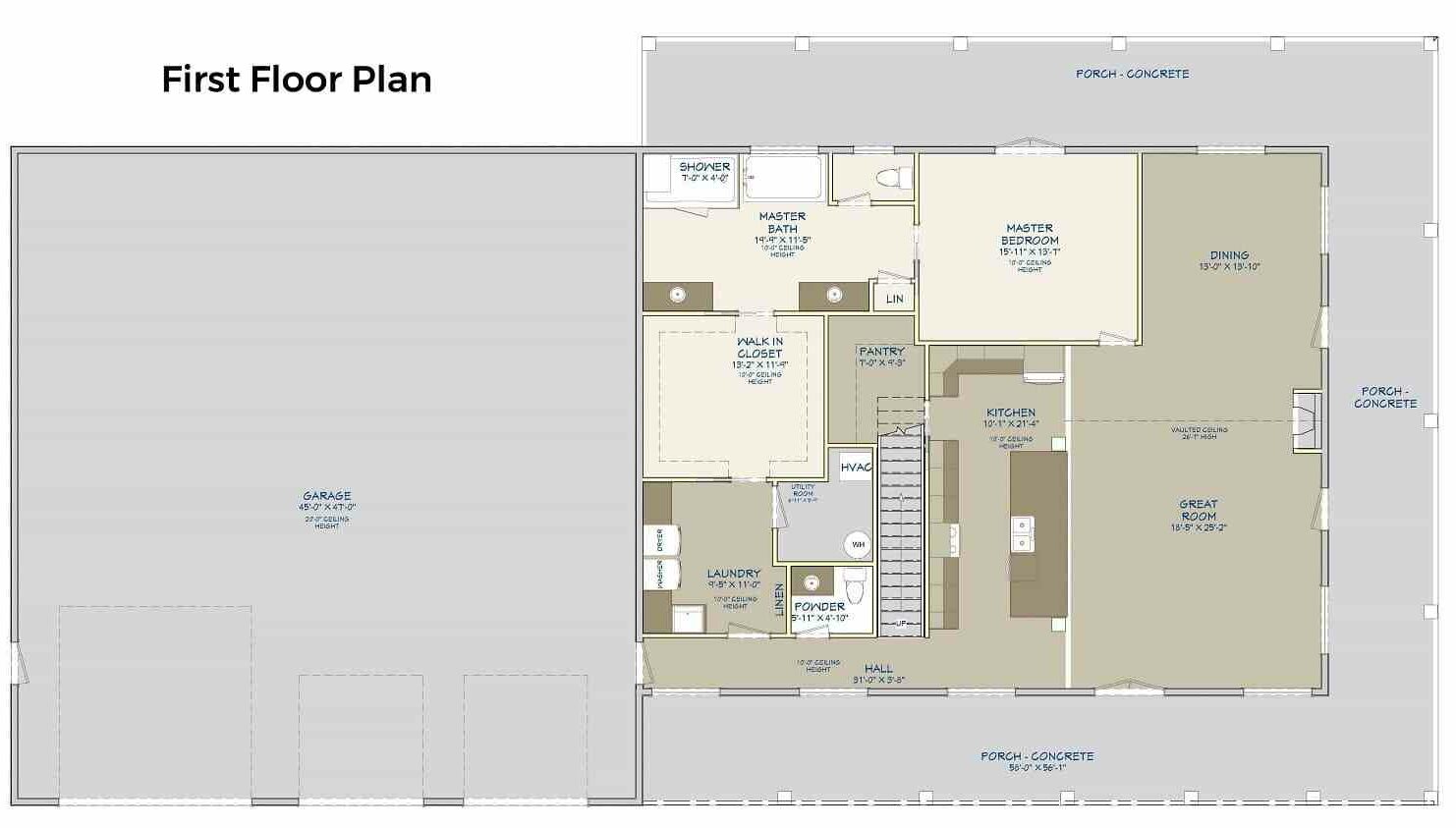 These types of 2 story barndominium floor plans are the trends for past the couple of years. When they first came to the Internet, they took the whole industry by storm. They went viral with hundreds and thousands of inquiries poured into the reception of different real-estate offices. 
The plan involves 4 bedrooms and 3 and a half bathrooms. The barndominium features a lavish porch and extensive living spaces. The garage is large enough to accommodate an RV. 
Featured 
The design is sleek and elegant and reflects a modern sensibility. 

The plan involved an extensive porch and three garages.

The interior is equipped with vaulted ceilings and a dining hall.

The kitchen is equipped with a full pantry and is structured around an island. 

A pathway beside the kitchen leads to the bathrooms, powder room, and laundry rooms. 

The master bath has a shower, water closet with an attached master closet. 
The Top Features Every Two-Story Barndominium Should Have
A 2 story barndominium has multiple advantages including being spacious, durable and cheaper, and energy-efficient by forming an insulated layer to protect from outside temperature. But here are a few features that every small 2-story barndominium should have.
Cost-effective 
A barndomimium especially if it's Florida barndominium should cost less than regular real estate. Keep enough disposable to decorate and expand your house. 
Flexible Planning 
Once you have taken care of the barndominium cost, make sure the barndo is flexible enough to expand your flooring without increasing costs. Adding another floor means expanding your space.
Energy Efficient
A small barndominium should be energy-efficient. It should have material incorporated within its building material to insulate outside temperatures and save you from high energy bills.
Multiple purposes
In the process to build a barndominium, you have to ensure that your house is accommodative enough to be used for multiple purposes. Make sure it can use a working space, entertainment space, and many others. 
Disadvantages of a Two Story Barndominium
A two story barndominium can be very advantageous but it has its disadvantages. Here are some of them:
Lack of Appeal
One of the reasons this happens is because people underestimate the cost of decorating the interior and exterior. 
Increased Cost
Most 2 story barndominium floor plans are poorly executed and might leave you no room for renovation. So you might have to pay extra for refurnishing. 
Land Availability 
Most barndominiums need huge areas of land which are increasingly becoming short in supply. Make sure you have somewhere on the outskirts of the city. 
Frequently Asked Questions 
Q1. What is the best size barndominium?
A 2 story barndominium can be customized for your use and convenience. But if you are very specific about these measurements, then an area of 2400 square feet would do just fine.
Q2. How tall is a two story barndominium?
There are some laws and regulations regarding ceiling and floor heights but a traditional barndominium can have a height of 21 feet. The single-story barndominium has about 10 feet in height. 
Q3. What are the advantages of a two story barndominium?
A two story barndominium can be very helpful for a growing family. It has an expansive living space that you can customize to different purposes and uses. They are energy efficient and are less burden on the pocket since they build with sustainable materials. They are durable and do not need much maintenance.
Conclusion 
A small 2 story barndominium can have all the necessary facilities and the luxury that one can ask for. For someone who wants a rustic charm with a city life aesthetic, a barndominium is the perfect fit for you. 
But make sure to check the rules and regulations in your area and contact appropriate real estate agents before buying one. Keep these things in mind you will be able to have the house of your dreams. 
2 Story Barndominium Plans: Best Floor Plans For Spacious Barndos