Building your very own barndominium can be an extremely satisfying process. Right from designing the floor plan to decorating your room, it is both rewarding and challenging. You will find numerous floor plans of varying sizes and varying numbers of bedrooms and bathrooms, with or without garages and other facilities. Sifting through all these will only leave you more confused.
We have accumulated a list of stunning designs of 40×60 barndominium floor plans with loft that will give you an idea of what you want. You can choose directly from these options or mix and match to create something completely unique. That is the best part about building your own home from scratch. You can design to match your exquisite taste and reflect your style. 
Barndominium Floor Plans With Loft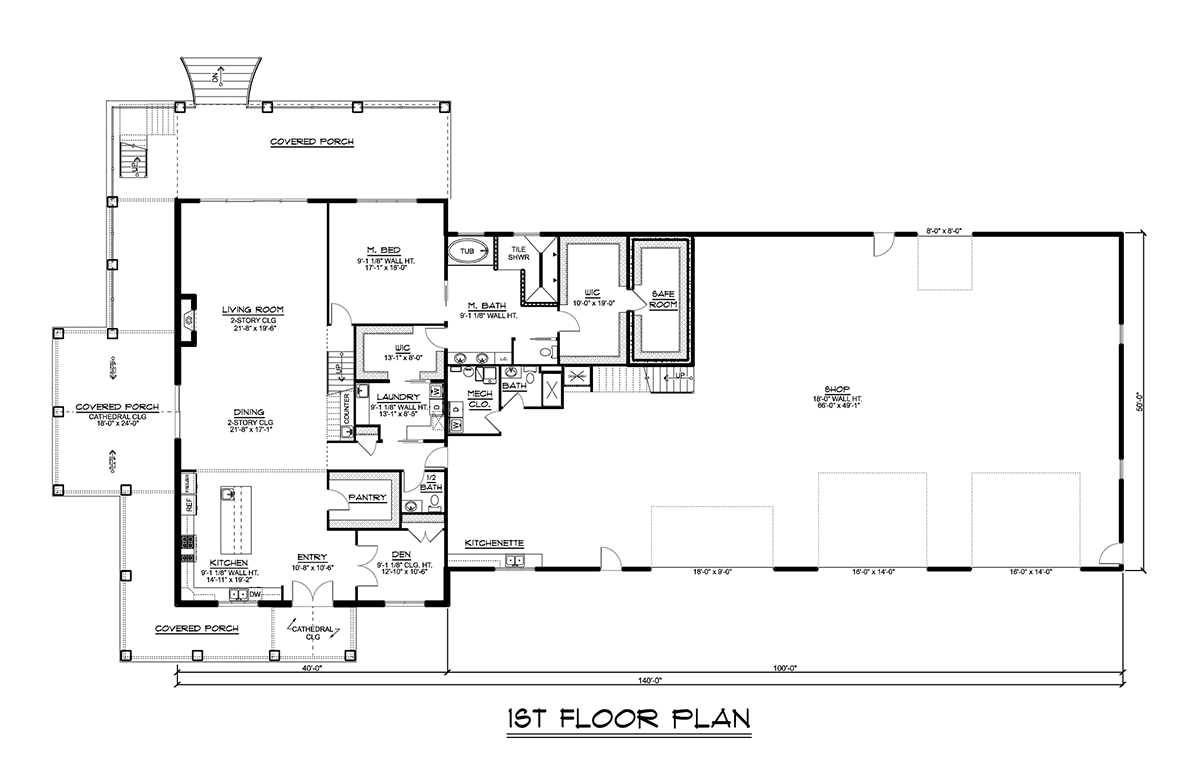 Barndominiums with lofts are a great choice for you as it provides more open floor planning with large windows. It allows natural lighting and high ceilings, all at a cheaper price. You can get the stylish look of lofts used in so many urban luxurious spaces. The size that will be most affordable and convenient for this purpose is 40×60 barndominium floor plans with loft. 
You can hire a constructor or choose to design and build your own barndominium floor plan. But in any case, there are several points that you need to be mindful of so as not to build a barndominium that is not sustainable.
Applying Forethought Before Planning: Points to Keep in Mind
Before you scroll down to see our collection of beautifully designed floor plans, you need first to assess your needs for this home. This will also take into consideration the wishes of other family members who will be using this home, everybody's schedule, the site of the project, and many other factors. The significant factors that are likely to affect your decision are outlined in the following.
1. Daily Habits
The daily habits of every member living in the house will determine how the space will be utilized. Your lifestyle and your schedule will heavily affect others living in close quarters with you. So, the floorplan should reflect these and be designed in such a manner that it is convenient and functional for all. 
2. Space Requirement
Everybody requires a certain amount of space to live comfortably. Space requirements need to be discussed beforehand to prioritize which is more important, and then the floorplan can be selected accordingly. Look at 40×60 barndominium floor plans with loft, which will give you the most space that can include everyone's requirements. 
3. Valuation in the Future
The design should be personalized and loved by family members, but it should also be a little basic in the sense that if, in the future, you decide to move, then you can easily sell this place. The floor plan should be such that it adds to the overall value of the barndominium and that it would not reduce over time. 
4. Traffic Within the House
The movement within the house is essential. The bedrooms should be away from the main entrance for the purpose of safety. The bathrooms should be easily accessible to all members without disturbing others. These and other requirements can be easily incorporated into the floor plan. 
Advantages to Consider
Floor plans for a barndominium with loft are superior to other designs in many ways. Especially the way they are styled, they prove to be the most ambient living spaces for families or bachelor pads. These are some of the advantages that come with barndos including lofts. 
1. Open, Spacious Concept
The best part about having a loft inside your home is that it make the place look bigger with higher ceilings and an open floor design. This lets you exploit even a small barndominium floor plan with loft to make it look and feel much bigger than it is. The higher ceilings also leave room to install larger windows, allowing more natural light to enter the building. 
2. Large Spaces (Good for Kids)
The large spaces can be wisely designed to give enough space for the tenants and leave room for the kids to be themselves and enjoy. Lofts can be styled in such a manner that every nook and cranny can be used efficiently to allow for privacy in case of a study or a bedroom, and a common room where the family can get together.  
3. Room for Customizations
Lofts are highly adjustable and can be customized for different looks: modern lofts with glasses, sophisticated looks with steel, or a rustic, country look with wood. There are infinite design possibilities when you add a loft to your living space. With the right decor, even a small barndominium will look stunning and spacious. 
4. Perfect for Hosting Guests
Lofts can be large enough to include a bedroom and a bathroom. This will be perfect for guests as it can provide a bit of privacy making you look like the perfect host. It is also a good idea for older children or a home office, basically anything that requires a private space to conduct your business peacefully. 
Disadvantages to Remember
All is not full of sunshine when you choose to build a loft with your barndominium. Lofts bring with them their unique style that may not suit every lifestyle or everyone's budget. We have put forth some of the possible disadvantages that come with barndominium plans with loft. 
1. More Utilities Required
Utility bills can reach astronomical heights if not properly planned beforehand. As lofts provide a larger area, more energy is required to heat or cool the area. There is also no possibility of closing off areas that are not being used. There are options to reduce this cost—using heavily insulated windows, ceiling fans to distribute airflow, and wood stoves or fireplaces to heat up the space. 
2. No Noise Insulation
Open floor planning is good for families with kids who want to keep an eye on them; however, it may not be suitable for every type of family. Since the loft directly opens onto the rooms below, conversations and activities in either will affect each other.  You can install rugs and keep heavier furniture in this space to absorb much of the sound. But a 40×60 barndominium floor plans with loft will have a larger area to put bedrooms or offices away from areas where more noise can be generated. 
3. Issues of Safety
A high loft within the house can be a safety hazard for small children who are naturally curious. Young kids will be more inclined to peek over a loft railing. This is a possible safety issue because railings could be loose, and kids could fall over or simply hurt themselves. You will get many safety gates and other features to make the structure more secure. 
4. Bad Smells Spread Easily
The open spaces allow air to flow easily from one corner to another, taking with it the distinct smells around the house. If you are cooking fish, you can be sure that the fishy smell will linger for a long time all over the house. However, you can play it smart and use this to your advantage—light a candle or bake cookies to simply turn the odd smell lingering in the house into a pleasant one that adds to the ambiance. 
Design Ideas For Barndominium Floor Plans With Lofts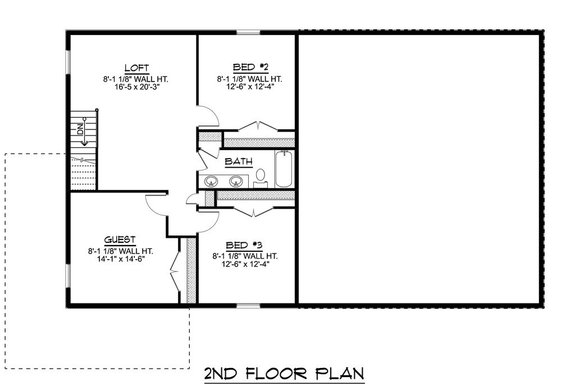 After considering all the pros and cons of constructing a loft in your barndominium if you are still confident about going through with this project, you can take a look at the list of beautifully creative and functional floorplans that we have gathered for you. Upon finalizing your design, you can also get an estimate of how much time it takes for build barndominium.
1. LP-3203 (3 bedrooms, 2 bathrooms)
This 2,400 square feet barndo floor plan is designed to include 3 bedrooms and 2 bathrooms. The magnificent master bedroom comes with a luxurious bathroom and spacious closet that has easy access to the attic. The living room, kitchen, and dining room are placed in a manner that is perfect for entertaining guests. The attic provides extra room to be used for whatever you may like. 
2. LP-2800 (3 bedrooms)
This is a uniquely designed barndo floor plan with all the bedrooms on the main floor leaving the loft space to be used in any manner you may want. It can be converted into a storage area, studio, guest room, or absolutely anything you can imagine. The indoor space is visually enhanced with vaulted ceilings. The garage can easily fit 2 or 3 vehicles. A front porch and a patio are included to provide an area for relaxation. 
3. LP-2802
Do you want a small barndominium floor plans with loft that is good for small families? The LP-2802 brings a 2,800 square feet barndo floor plan that includes 3 bedrooms with 2.5 baths. The design already includes an office room for work-at-home parents to peacefully tend to their business and a loft space that can be converted into storage or a guest room. The garage is a spacious two-door feature. The wrap-around patio provides ample space to sit and relax in nature. 
4. LP-2803 (3 bedrooms)
Be one with nature with this floor plan design for a barndominium with loft. It comes with a balcony overlooking nature where you can host friends and families. This floor plan also includes 2 garages. You can use one for parking your vehicles while the other can be converted into a workshop or studio or simply a storage space. 
5. PL-62401 (2 bedrooms, 2 bathrooms) 
A smaller design for a smaller family. If you have fewer family members then this will be most affordable for you. There is a lesser number of bedrooms but a customizable loft space that has multi-functionality and can be used as a playroom, study, or even a sleeping quarter. 
6. LP-2806 (4 bedrooms)
The perfect design for a social butterfly or a large family. The 4 bedrooms can accommodate many guests comfortably. In addition, there is a loft for anything you want. The double patios on the front and back are a great space for relaxation. 
7. PL-62402 (5 bedrooms, 2 bathrooms)
This is the only design that has included 5 bedrooms with the master bedroom in its own private space on the main floor. The remaining bedrooms are accommodated in the loft and the main floor space is utilized for a generously sized living room. 
8. PL-69193 (2 bedrooms)
This plan includes a 3-car garage with ample space for storage and your many vehicles. The 2 bedrooms are situated further from each other: one on the loft area and the master bedroom on the main floor to provide complete privacy for its inhabitants. The wraparound patio is the perfect place for relaxation in the evenings or having a get-together with the company. 
9. PL-63002 
This beautifully designed 2 story barndominium is spacious with about 4,557 square feet of floor space. It is perfect for families who love to spend time together. You can enjoy family nights in the roomy living area that comes with a fireplace. The floor plan comes with a large garage that can accommodate your car and leave extra space for storage. 
10. PL-62403 
Invite friends and families over for a sleepover without having to worry about where they are going to sleep because this beautifully designed floor plan has multiple guest rooms and large spaces for gathering and creating memories. 
Frequently Asked Questions
Q1. Is it cheaper to build up or out on a barndominium?
Building upon a smaller area of the concrete slab will apparently seem cheaper than expanding on the sides and going for a broader barndominium floor plan. However, there are several not-so-apparent costs that will ultimately lead to a higher price to build up on a barndominium. This includes the cost of adding support structures within the concrete slab and the first-floor pillars to make it strong enough to hold the weight of the second floor. 
Q2. What is the most cost-effective barndominium size?
Barndominiums are generally cheaper to build than traditional homes. A pre-designed floorplan of 2000 to 3000 square feet which uses metal to build its framework, will be cheaper and most cost-effective compared to all other options. This is the perfect size to house all your needs, and you can live comfortably within this space. Using 40×60 barndominium floor plans with loft will allow you to design the most cost-effective barndominium. 
Q3. How to Choose a Barndominium Floor Plan?
Choosing a barndominium floor plan needs careful consideration of how you want to use your space. Most barndominiums are highly customizable and can be adjusted based on your requirements. So, the factors that you need to keep in mind is how every member in the house will be sharing the space. 
Final Thoughts
Barndominiums with extra space in lofts are a great option for big families, or those who need extra space to spread out and live comfortably. In general, barndos are more budget-friendly. But before venturing out on this difficult task, you need to carefully consider all possible challenges and select every step with caution. 
We have outlined a list of 40×60 barndominium floor plans with loft—a collection of premiere floor plans that can be further customized to match your needs and style. Your task is further reduced as now you can simply choose one floorplan and start building your dream home.
10 Customized 40×60 Barndominium Floor Plans With Loft