In case anyone is looking for a nice change and escape from the bustling city life, a perfectly designed Barndominium bedroom plan can fulfill your family's desire. In this piece, we are going to discuss five of the best 5 bedroom barndominium floor plans. So that you and your whole family can get the required space for playtime and relaxation. The big size of these barndominiums can give you enough space for any kind of family gatherings, playtimes as well as other kinds of entertainment activities. 
What is a Barndominium Floor Plan?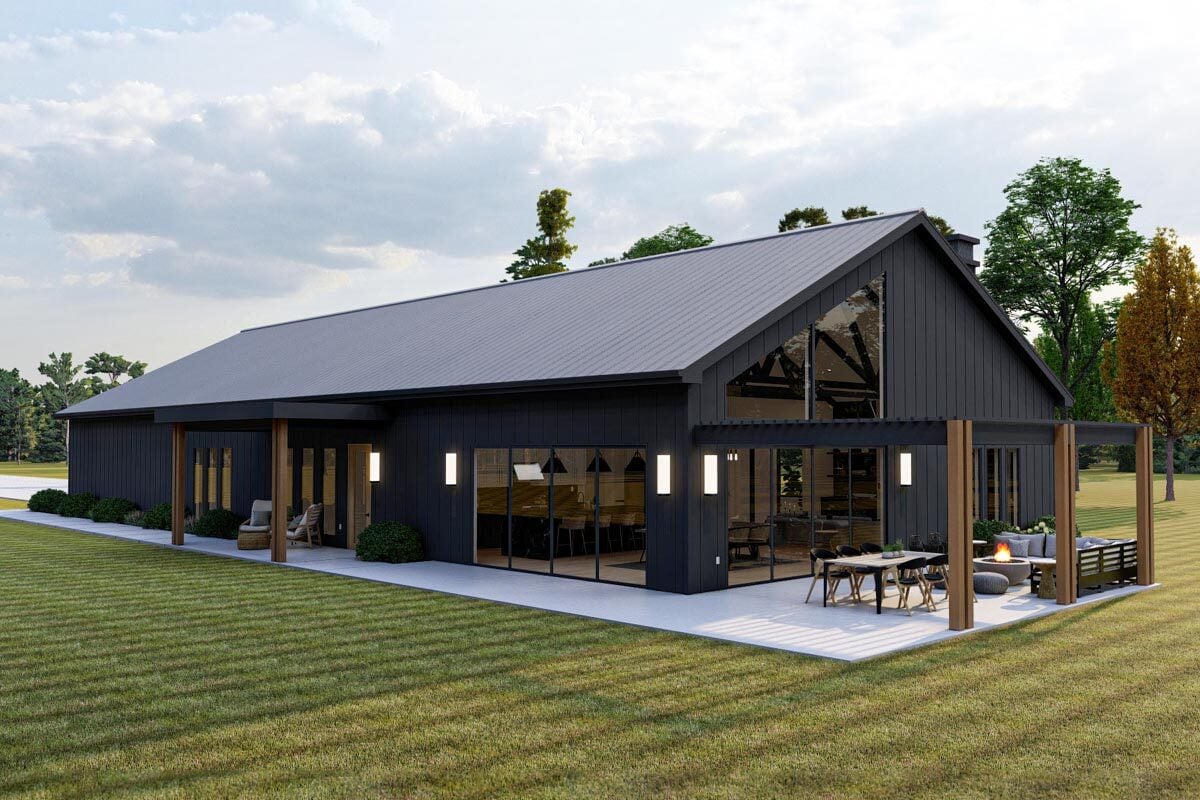 Floor plans can be the most important part of any barndominium building. Through floor planning, you can get an idea of how the barndominium can be built up. In the case of the designs, you can look up different websites and take pictures to map its design. Here are some of the things that are included in the floor plans of the barndominiums:
The floor plans consist of the exterior details. 

The house level should be in every floor plan of any 5 bedroom barndominium. 

The floor plans should contain all the plumbing details, as well as the electric details. 

Your contractor should have a look at the building procedure, before initiating the build-up. 

All the suggestions for any new tweaks in the design can pass through the structured plans. 

The floor plan design is essential for getting the finished design. 
Why Suitable Floor Plans Are Important?
In the case of the selection of floor plans, you will be pretty much spoiled for choice as there are a lot of options. Every plan will have its own individual benefits. You will have to look closer at what exactly you need as your preferences.  Hence, plans play a crucial role in selecting the suitable plan for your 5 bedroom barndominium house. Thus, it is always important to identify your own needs and requirements before selecting the perfect floor plan.  
Helps you to have a bird's eye view.
A suitable plan allows you to decide the spending.
You will not exceed your budget.
It also helps the builder to serve you with the exact goal.
It makes the building process easy and effortless.
In case you are looking for pre-customized plans, you will still require a floor plan to check if you have achieved your final result or not. Thus, floor plans are essential for any builder to create any effective design of a barndominium. 
Specific Areas of Consideration Before Planning Barndominium Floor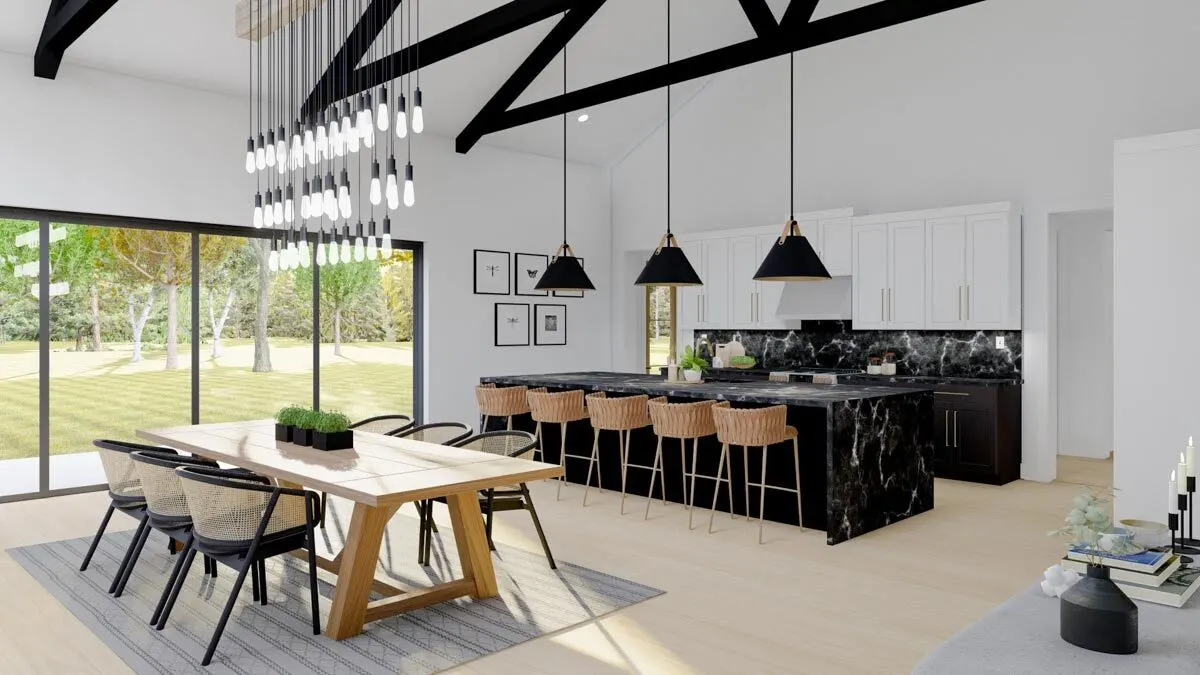 Barndominium floor plans 5 bedroom are increasingly becoming one of the most famous houses for anyone who is looking for an affordable house. The importance of the right kind of barndominium plans 5 bedroom floor plan is essential. The designing aspects here become crucial for everyone. Here are some of the specific reasons that you should look at before initiating the planning process. 
Fun and Entertainment 
In case some people are into cocktail parties with friends and family members. It is some kind of a birthday party they will require enough space for these fun and entertaining activities within barndominium floor plans 5 bedroom. You will require this kind of extra space to welcome all the guests as they can be more comfortable. In this context, you might require an open concept design as this can be helpful for spending time with friends and family as well as finishing up the kitchen work. 
Personal Hobbies
In the context of people with individual hobbies, you might require a five-bedroom floor plan for your 5 bedroom barndominium floor plans. This can easily give you enough space for participating in your individual hobbies as you can have a separate hobby from your partner. For some people, if they are into gardening activities they will require extra space to participate in it. The five-bedroom plan can give you extra space so that you can use that extra spot in the house for your personal hobbies and activities.   
Business Requirements
In case you have a home business operation then also the five-bedroom plan of the floor can be suitable for your needs as it also can come under your overall barndominium cost. In case you are into woodworking then you might require a large space for fulfilling your business operations. Well, in the case of any home business operations, you might want a separate room or a place in the house as the four-bedroom designs of the floor can give you that extra space.    
Playtime Area
In some cases, the family might be one of the larger sizes as in this regard you might require a five or four-bedroom plan for your 5 bedroom barndominium. For the little kids of your family, you will need to create a separate place for their playtime activities as through this process you can ensure that everyone stays happy in the house. 
You can use these places as loft areas so that your kids can have that place as their own place as it can also be near their bedrooms. A big enough room is required as you can stuff their toys as well as an out a T.V. or gaming systems for their pass-time activities. You can also put a desk or a table for their separate study time in the room. 
Outdoor Space
If you are a luxurious person then you might require a patio through which you can extend your living space within barndominium floor plans 5 bedroom. This kind of outdoor living space can also be essential for certain individuals and families where they can install a pool or a relaxing deck. 
In the case of some families, they might like an outdoor area or other kinds of activities. You might require a separate space for installing any kind of deck to watch over the house or a pool for various kinds of relaxation activities. Thus the outdoor space area is also another crucial thing that you might have to consider before starting the planning of the floor structure of your 5 bedroom barndominium. 
Overall Cost Of Barndominium Floor Planning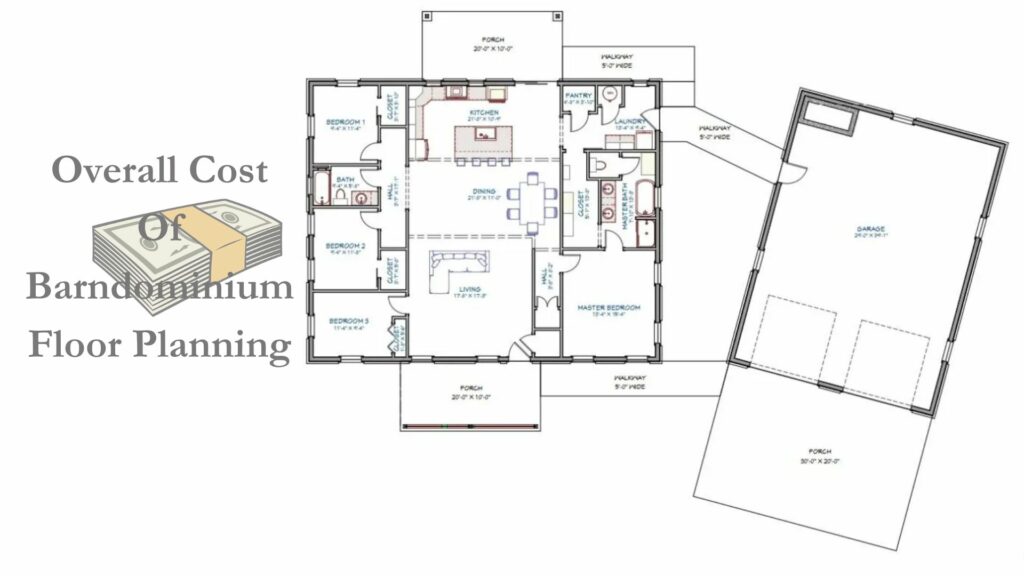 In case you are deciding on the floor design aspects of your 5 bedroom barndominium then at first you should always think about the cost per square foot of the house. The overall cost of the whole house can be really affordable than other traditional houses as it can range anywhere between $30 to $125 per square foot. As it all depends on the size of the project and how much extra space you might need. Here are some of the different areas of 5 bedroom barndominium floor plans where you will require sufficient funding.
The exterior cost of any 5 bedroom barndominium is the primary area where most of the funding is required for construction. These highly customizable houses will need sufficient funding to complete as some of the parts may include the land clearing, roof building, plumbing work, slab, and pole barn. 
After you are done with the exterior spending, you will require additional funds for designing the interior work within barndominium plans 5 bedroom. The initiation of the creation of the hallways and rooms is important for the building of a dream house. The overall cost of the interior layout may depend upon the overall size of the house and the number of rooms. Some of the areas of interior work that need funding are electrical work, farming, and furnishing. 
The choosing of the correct land and its cost is also another crucial area to consider before initiating the building process of a 5 bedroom barndominium. The land sometimes can play a big role in the overall cost of the building procedure. So if it is situated in a rural place then it can be a high chance that it will be much cheaper than other posh places. So finding suitable land is also another central area of concern for the builders and inhabitants for deciding on the overall budget of the barndominium.  
Kits Required For Barndominium Floor Planning and Design
In case of building a comfortable barndominium you will always require a metal shell and kit. Various service providers here offer 5 bedroom barndominium kits as it is pretty easy to install and can be done within days. It all depends upon the commercial or residential location. Some of the kits might come as prefabricated as you can assemble them without the help of any professional builder. 
In some cases, certain builders can help you to assemble or order the barndominium kit however you should always try to do it in a separate way. By using these tools you can easily get access to the kits that are needed for building a five-bedroom floor for your barndo house.   
6 Best Barnrdominum Floor Plans For Your Requirement
If you are looking for a suitable 5 bedroom barndominium floor plans floor plan, do not worry; multiple options are available for you in the market. It all depends on what you need as each plan can give you something else than the other. So in case you have a large family, a 4-bedroom plan can be the best option for you. 
1. BM2500
This is one of the most popular floor plans that are available in the market as you can enjoy its 4-bedroom bandominium look. If you are looking for a more rustic-looking barn, you can look at this 5 bedroom barndominium floor plan. The doors on the entryway can give you the feel of a proper old-school barn house. 
The house is usually connected to a garage with three storage systems

This floor plan can give you access to use the big room as both a dining room and a living room. 

It gives you the option of an island in the kitchen 

It gives space for a mechanical room—the master suite, which can be situated on the first floor. 

It lets you have a master bedroom, which can be connected to a large bathtub and a shower, and access the walk-in closet through this master bathroom. 

There can be a second story connected through the stairs, having a balcony and a loft
2. BM3945
Are you looking for a modern-looking farmhouse with a four-bedroom plan? Then the BM3945 plan might be the right solution for you. There is an elegant porch which really increases the space of the house. In case you require it for entertainment and fun activities. 
The entire exterior can be quite lavish owing to a lot of space for a gigantic great room.

The hallway can also take you to different rooms. On one side it can lead to a laundry room, mud room, and the master suite. 

The master suite is usually quite big with a big-sized bedroom. The master bathroom which constitutes a double vanity, shower, and soaking tub.

This plan can have a second floor. It has a loft place and a separate living space. It can be used as a seating area. 

You can find a closet at the end of the living space where you can store all of your clothes. 
All three bedrooms are absolutely massive which can be great for big-sized families. There are also two bathrooms there. Also, one room has a separate washroom for itself while the other two rooms share one. 
3. BM3151-G-B
It is one of the most recent barndominiums that got really popular. The fact that it is a five-bedroom plan. It is one of the new designs from BuildMax. There is also a garage that is attached to the breezeway, just like the BM3151 plan. 
The 5 bedroom barndominium floor plans have a porch. A three-car garage; there is a bonus room above if you require additional space. 

The interior design of this plan is pretty much open. It has a gigantic room that can take you directly to the kitchen room. 

The kitchen room has a huge pantry as well as a large island. It has a space for a laundry room which is connected to the breezeway.   

You can have a master suite in this plan as it is situated on the first floor. This also attaches to a master bathroom with a large bathtub, double vanity, and a big shower. 

There is a provision for the facility of four bedrooms. Moreover, a theatre room with a couple of bathrooms for your service.

The bathrooms on this floor will have to be shared among the bedrooms.  
4. BM5550
The BM550 is a four-bedroom 5 bedroom barndominium plan that shook up the entire world of barndominium plans as this changed the views of the people regarding any barndo. In case you are looking for a sleek-looking place with a space for a shophouse then this plan might the most suitable option for you. 
There is an arrangement of a wraparound porch with a three-car garage.

Within the interior, you can get a fabulous room with a large dining space and a massive kitchen.

There is provision for a laundry room which is connected to the hallway. 

Behind the laundry room is a mechanical room as it can be accessed from there without being an odd one out.

You can have a master suite which you can access from the great room within this barndominium 5 bedroom.

It has a huge bedroom if you require it and is attached to a master bathroom. 

Within the bathroom, you arrange a shower, a bathtub, and a massive walk-in closet. The closet here is attached to a laundry room where you can do your laundry work.

The second floor has a loft which is attached to three bedrooms. Each of the bedrooms has a separate bathroom. This can be a huge area for any big-sized family and guests. This big space can be used separately for children's playtime activities.
 5.
BM1600
Now if you are a person who is looking for a smaller-sized barndominium plan. Then also BuildMax can offer you perfectly suitable barndos for your requirements. The BM1600 floor plan is especially for you. If you are looking for a smaller and more suitable barndominium for you. So in case, you are looking for a charming house with massive porch areas on both the back and the end then this floor plan can be the best for you. 
The porch area lets you have a massive lounge space to chill out with your family.

You can add a lot of charm to the neighborhood as you can paint the sides with sky navy blue. The bottom of the siding can also be made of stone as this adds to the elegant feeling of this plan. 

The front porch adds to its versatility since you can lay down with your family for a picnic or with a book. 

Within the interior side of things. This plan can offer you a lot as the massive living room is connected to the kitchen room. 
This huge spot between the living room and kitchen also leaves open a possibility for setting up a dining room.  Within the kitchen room, there is also a pantry which can be helpful for storing groceries and all.   
6. BM1440
If you are looking for a similar floor plan like BM1600 then the BM1440 plan might be your next best solution. Just like the other plan this plan also has a front and rear porch. It is also pretty comfortable for bigger-sized families. The massive amount of space that the porch can allow for flower planting. That can make the house more comfortable for family and friends. In case you are looking for options in barndominium Florida. 
The interior design presents you with a huge living room that is attached to the kitchen and the dining room

 It can be situated right off the side of the kitchen room.

The kitchen room can let you have a huge island. 

The dining room can be quite big for you if you require it for fitting your big family. 

You can make a provision for a laundry room which can be located behind the doors of the dining room.

There are two bedrooms and a pretty big bathroom situated to the left of the living room. 

You can arrange for a master suite in the floor plan, which can be situated right to the living room. The normal bedroom and master bedroom are well connected.

You can have a provision for a massive closet for more clothes. You have that option in this floor plan. Having it close to the bathroom. You can get ready and dress up in the morning much more quickly.
Frequently Asked Questions
Q1. How many square feet is a 4 bedroom barndominium?
The four-bedroom barndominium can be ranged in almost 3200 square feet. These four-bedroom barndominiums can take the place of your traditional houses if you are looking for an elegant house. The entire living space in this barndo can be constituted of four bedrooms. Three bathrooms as well as a massive central area. 
Q2. What is the most expensive part of building a barndominium?
One of the costliest parts of building a barndominium 5 bedroom is the buying of the metal shell. Moreover, making of the roofs, windows and doors. All these exterior parts of the brandominium can take up a lot of costs. As the metal sliding can also take up a lot of portion of your overall budget.
Q3. Do barndominiums have moisture problems?
In the case of any barndominium condensation is common as it can be caused by excessive moisture. One of the main reasons for these moisture issues is the material of the building. In case there is excessive heat this moisture can be seen in the glass of the window and door panels. 
Final Thoughts
Barndominium 5 bedroom plans can be essential for understanding the overall layout of the house. It all depends upon the individual preferences of the owners. A five-bedroom plan can be good for families who want a separate place for each and every member. You can select a pre-customized plan for your house. However, you should always make sure it is customizable so that you can tweak its design in the late stages. 
Complete Guide To 5 Bedroom Barndominium Floor Plans