Barndominiums are versatile barn-inspired buildings that can house workshops, large garages, studies, or even living quarters. Their major advantage is its customizability. If you are someone with a strong sense of aesthetic and personal style, it must be difficult to find a pre-made home that is to your taste. 
Building your own home is an exciting but challenging prospect. Choosing a design, the budget, selecting a contractor—so many decisions! It is not an easy task to do this. In this article, we have compiled 20 of the best floor plans for a 4 bedroom barndominium. Choose one from these stylish designs or mix and match to come up with a floor plan that is completely unique. 
Customizing Unique, Space Efficient Barndominum Floor Plans With 4 Bedrooms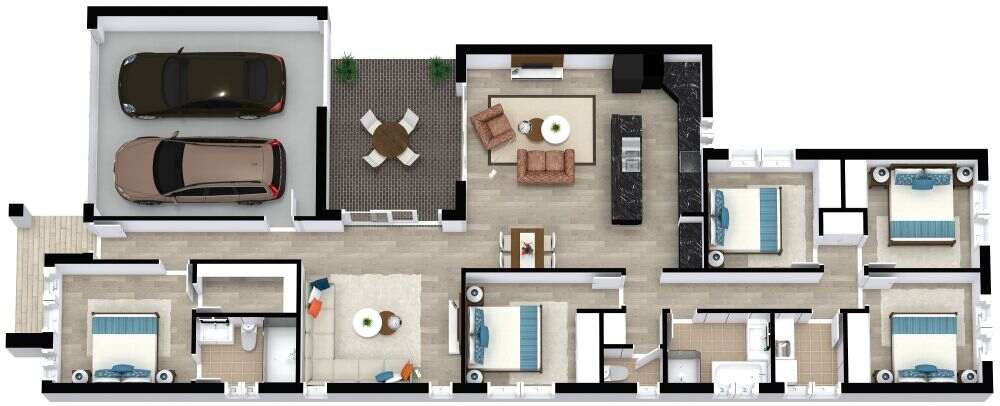 Building your dream home does not need to be a costly affair, nor do you have to compromise on space. A well-planned barndominium can accommodate large families within a small space without making it feel crowded. In a well-designed 4 bedroom floor plan, you can incorporate all kinds of space-consuming, large amenities like double-door refrigerators, dishwashers, walk-in closets, and other such modern facilities without the floor space feeling too congested.
This is where the magic of designing comes into play. Keeping in mind all of your needs you can build a small barndominium or a large one with customized floor plans to accommodate all your furniture. In fact, based on how the house is intended to be used, the floor plans can vary to accommodate just about everything. 
Factors Guiding the Design of 4 Bedroom Barndominium Floor Plans
A space can be used in many different ways. The main benefit that you get in customizing your own barndominium is that you can design it based on your needs. The planning stage is absolutely crucial and one should have the foresight to anticipate the future needs and problems someone is likely to face. Anticipating future problems will help you include extra features or exclude certain amenities to enhance the space usage and make it into a happy home.
A home is for everyone and the design of the floorplan should reflect that. To avoid missing out on important points, we have listed 6 factors that will guide you in the decision-making process. There are 6 main factors that you should consider before you start designing 40×60 4 bedroom barndominium floor plans.
Your Aesthetic
The best part of being able to customize your floor plan is that you get to incorporate your sense of aesthetics within the plan. Everyone has a different sense of style and it definitely shows in their homes–the way a home is decorated, the color palates, etc. To match your style, you can plan ahead and incorporate beautiful designs within the layout like spiral staircases, bay windows, pillars, wall cabinets, and many such ideas. 
Using Your Home
Your home will likely be used by many people and the floor plan should make adjustments to meet all their needs. This should consider everyone's schedule. For example, if someone requires more privacy then their room should be placed away from others or an elderly person's room should be closer to the bathroom. Based on your need, a 4 bedroom 2 story barndominium floor plans can easily be designed. It could be 40×60 4 bedroom barndominium floor plans or of another dimension based on your space requirement. 
Storage Required
An exhaustive idea of all your belongings sorted into categories and knowledge of future needs will come in handy while designing the storage space for your barndo. If you own more clothes, you will require a larger closet, if you have many tools and equipment, you will need to design a space that can hold all your stuff. Accounting for storage space is essential to allow for everything to be placed neatly and in an organized manner. If more storage is required still you can go for 4 bedroom 2 story barndominium floor plans.
Anticipating Movement
The movement of family members within the house also impacts the floor design. For example, the garage should be closer to the kitchen for times when heavy groceries need to be carried in, or the entrance to the bedrooms should not intersect or be a cause of distraction for others. Allowing for traffic flow helps in designing a floor plan that is both efficient and tasteful. You can build a white barndominium or a blue or a red but it is of lesser consequence when it comes to choosing the right floorplan. 
Lay of the Land
The land on which the barndominium is being built is also very important. You want to design a barndo in such a way that the bedrooms and the living room gets the best view. The main room should be on the side of the house that receives the most light and so on. This way everybody gets a room with a view. 
A Design to Suit Your Lifestyle
The barndominium 4 bedroom floor plans available online do not account for your particular lifestyle. However, when you are designing your own floor plan, you can customize it any way you like. For example, if you are a health freak—incorporate a gym in your barndo; if you are a workaholic—design the most efficient home office; if you love carving woods—develop a workshop displaying all your tools. 
12 Exquisite Barndominium Floor Plans 4 Bedroom Accommodation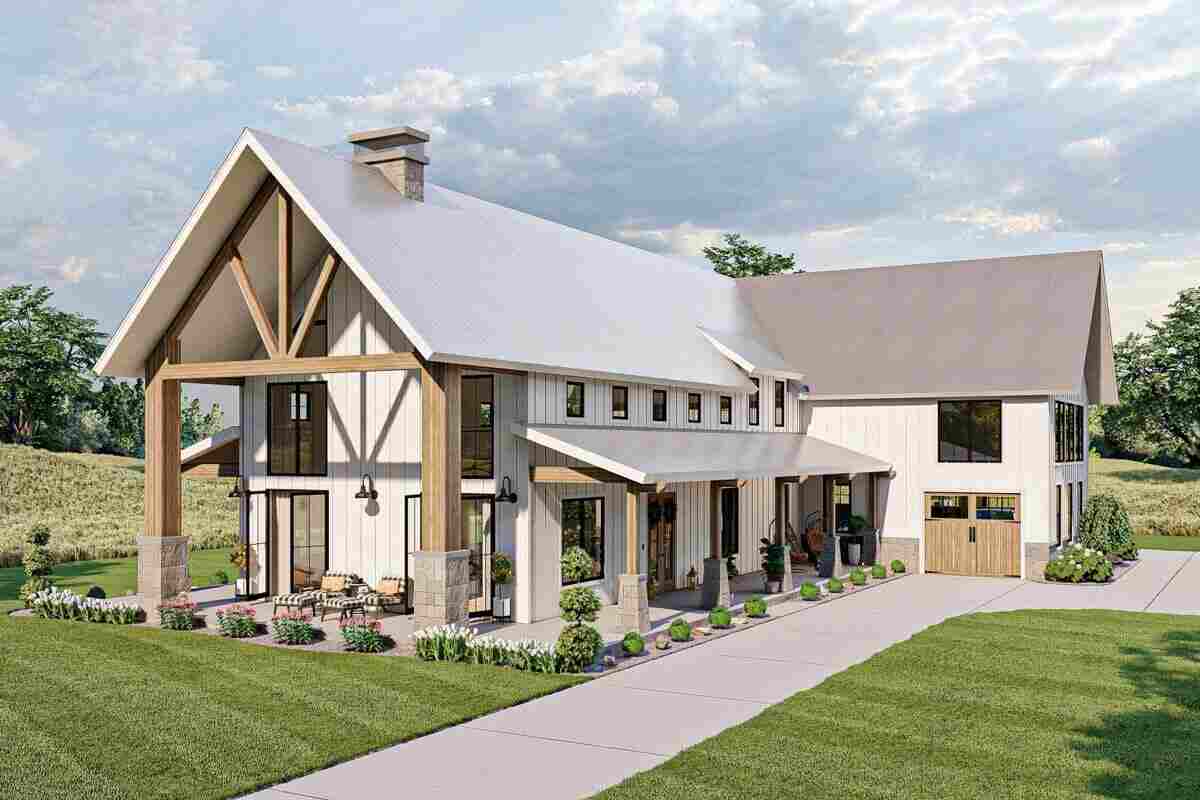 Scouring the internet, chatting with professionals in the field, and after gathering all relevant information, we have made a list of 12 unique and beautiful barndominium floor plans suited for 4 bedrooms! These can be used for inspiration to design something completely your own, or you may use them as it is. 
1. Open Floor Plan Idea With Garage & 2 Bathroom
Area – 2,000 square feet
Bathroom – 2
The open floor design makes for an airy, spacious living area with a wraparound porch. The fireplace goes up to the kitchen area and has improved heating capacity. Every bedroom comes with an in-built closet space. It even accommodates a 2-door garage. 
2. Floor Plan For Hosting Guests (Includes Carport & Loft)
Area – 2,000 square feet
The house is to host guests in the front and back patios. It is even perfect for a growing family with comfortable rooms and lots of storage space. The patios are great for relaxation or a fun playing area for the kids. 
3. Work From Home (Floor Plan With Shop)
Area – 3,200 square feet
Bathroom – 2 
This is the most perfectly designed barndo for a working individual. The master bedroom is efficiently connected to the kitchen pantry and laundry for ease of movement. The garage space which can easily double as a shop is connected to the main house but is far enough to be able to work there in peace. It is also quite large and spacious. 
4. Floor Plan With 2.5 Bathrooms & Garage For 3 Cars
Area – 2,207 square feet
Bathroom – 2.5
If you are a car fanatic and own many cars, this floor plan is the design for you. The garage is big enough to hold up to 3 cars. The other feature that makes this layout so special is that the master bedroom is situated away from the other bedrooms for maximum privacy. The three other bedrooms, along with an office are situated on the other side. The back and front porches are designed for a relaxing living room area. 
5. Most Features In Compact Space (4 Bedrooms in 3000 sq ft.)
Area – 3,000 square feet
Bathroom – 3 bathroom
This is a compact design with packed features. It has 4 bedrooms, a study, and 3 bathrooms. The living room boasts a comfortable, cozy floor plan which is manageable and efficient. This is not the smallest floor area but it sure features greater amenities than other floor plans of this size. 
6. Multipurpose Floor Plans (Extra Garage or Shop)
This layout accounts for private bedrooms (2 bedrooms situated on opposite sides), and a large workshop attached to the house. This has lots of storage in the large walk-in closet in the master bedroom. It also has an office to be able to work peacefully from home. 
7. Bathroom Edition Floor Plans (Includes 3.5 Bathrooms)
The perfect design for entertainment and comfort. Large, open-plan living rooms with fun front and back porches are perfect for hosting guests and entertaining families. While the hubbub is in the living room, the bedrooms are across a playroom for privacy and quiet. 
8. Barndominium Floor Plans For Extra Spaces (Includes Lofts)
Lofts are additional spaces that can be used for many things. It can be transformed into a play area for the kids, a home theater for the whole family, or a study with extra privacy! It is an adaptable space that can be modified to fit any kind of lifestyle.
9. Floor Plans For You & Your Car (Comes With Garage)
This floor plan comes with a large garage to store all your cars or transform them into a large workspace. The living area has 4 bedrooms for large families or if you like hosting guests. This is one of the best barndominium floor plans 4 bedroom big that can accommodate large families and their large cars.
10. Kid Friendly Floor Plans (Extra Game Room)
This floor plan includes a game room for kids or even an adult who is a gaming enthusiast. The master bedroom has privacy because it is separate from other parts of the house. It has 2 full baths plus an additional half bath to reduce conflict over the bathroom. 
11. All-Inclusive Floor Plans (Includes Office & Playroom)
A large floor design that has thought of everything. An office for the adults and a playroom for the kids along with 4 bedrooms; this design really considers everybody's needs. It also has 3 bathrooms so that no one has to wait in line for the bathroom. The huge living room is perfect for relaxing or inviting guests over. 
12. Bathrooms For Everyone (Comes With 4 Bathrooms)
A perfectly designed floor plan with 4 spacious bedrooms and 4 bathrooms! Everyone gets their own. The large living room is airy and functional. This space is functional and comfortable. Comes with a large garage space that can double as a shop. This is the perfect 4 bedroom barndominium floor plans if you need to build a workshop at home or have multiple cars. 
Frequently Asked Questions
Q1. How Do You Heat and Cool a Barndominium?
A barndominium floor plans 4 bedroom size requires careful planning for heating and cooling options. The five ways in which barndominiums can be heated are central heating systems (using a furnace or boiler), heat pumps, burning wood to generate heat (using fireplaces or wood stoves), space heaters, and radiant heating. 
The five energy-efficient cooling options for a barndominium are the roof's ventilation, installing highly insulated walls, designing open floor plans to reduce constricted airflow, installing HVAC systems, and designing the outside to block or reflect heat. 
Q2. What is the Cheapest Barndominium to Build?
Generally, the barndominium cost is lesser than building a traditional home. The price depends on many factors such as raw materials, use of constructor or do-it-yourself method, size and type of barndominium, the facilities included, and many more. However, experienced constructors generally price the cost of building barndominiums at $30-$150 per square foot as opposed to $100-$200 per square foot for building traditional homes. 
Q3. What is the Ideal Size For a Building to Build a Barndominium?
A floor plan which is 30×40 feet is ideal for a 2 story barndominium. It will have 1,200 square feet on the ground floor and including the second floor, the entire space will become about 2,000 square feet. This is the ideal size for a barndominium as it is enough space to house two bedrooms, a single bathroom, a compact kitchen, and a 400 square feet bay that can roughly accommodate two cars.  
Final Thoughts
Barndominiums can be small or large, but without effective planning, even an ample space is a waste. On the other hand, a small space can hold several bedrooms and still leave room for a spacious living room. It is all in the planning.
There are several barndominium floorplans to choose from but ultimately, the design should be adequate for your use. The first thing in choosing a design is determining how you are going to be using the floor plan. Prioritizing your needs will be the first step and then finding out who builds barndominiums in Florida to get a consultation with an expert will lead to establishing a  strong foundation for your forever home.  
12 All Inclusive, Stylish 4 Bedroom Barndominium Floor Plans